Geo and Easypave Grids – Standartpark

Grass and Gravel Paving System
• Parking Pads
• Grass Driveways
• Gravel Driveways
• Shed / RV Base
• Incline Spaces
• Horse Paddocks (with any fill)
Height: 2 Inches
Load Class: 80,000 LBS
Weight: 3 lbs (ea)
Base Needed: NONE
• Grass (all types)
• Soil
• Sand
• Pea Gravel
• Decorative Gravel
• Empty (NONE)
The EasyPave Grid System actually does not require a base as it has its own padding elements on the grid! Which saves you money, and also allows you to place our grid on all sorts of different terrains. Some customers however find that a small amount of sand / fine crushed gravel is a good idea, just to create a smooth area first. However its not needed structurally - as the EasyPave will not push into the ground like other systems!
EasyPave Installation
Connection - To connect our units, it is more simple than meets the eye. You will see the "wave" curves and the "O" pads on the EasyPave system. These allow for the push and lock connection.
1. Line up the units together end to end by length or width.
2. Lightly tuck the "O" pads under each "wave" curve on the opposing grid.
3. Push the grids together to lock.
4. Thats all folks! - Now lay your units out all connected in area of your installation as needed.
Anchoring Down
After placement of the grid - Its time to anchor down.
Two anchors per grid is recommended (and what comes with the system). The anchor holes are already pre cut in the center of the EasyPave system.
What can be used with our grid?
- Grass / Sod
- Pea Gravel / Gravel
- Soil / Sand
- Even empty if you wish!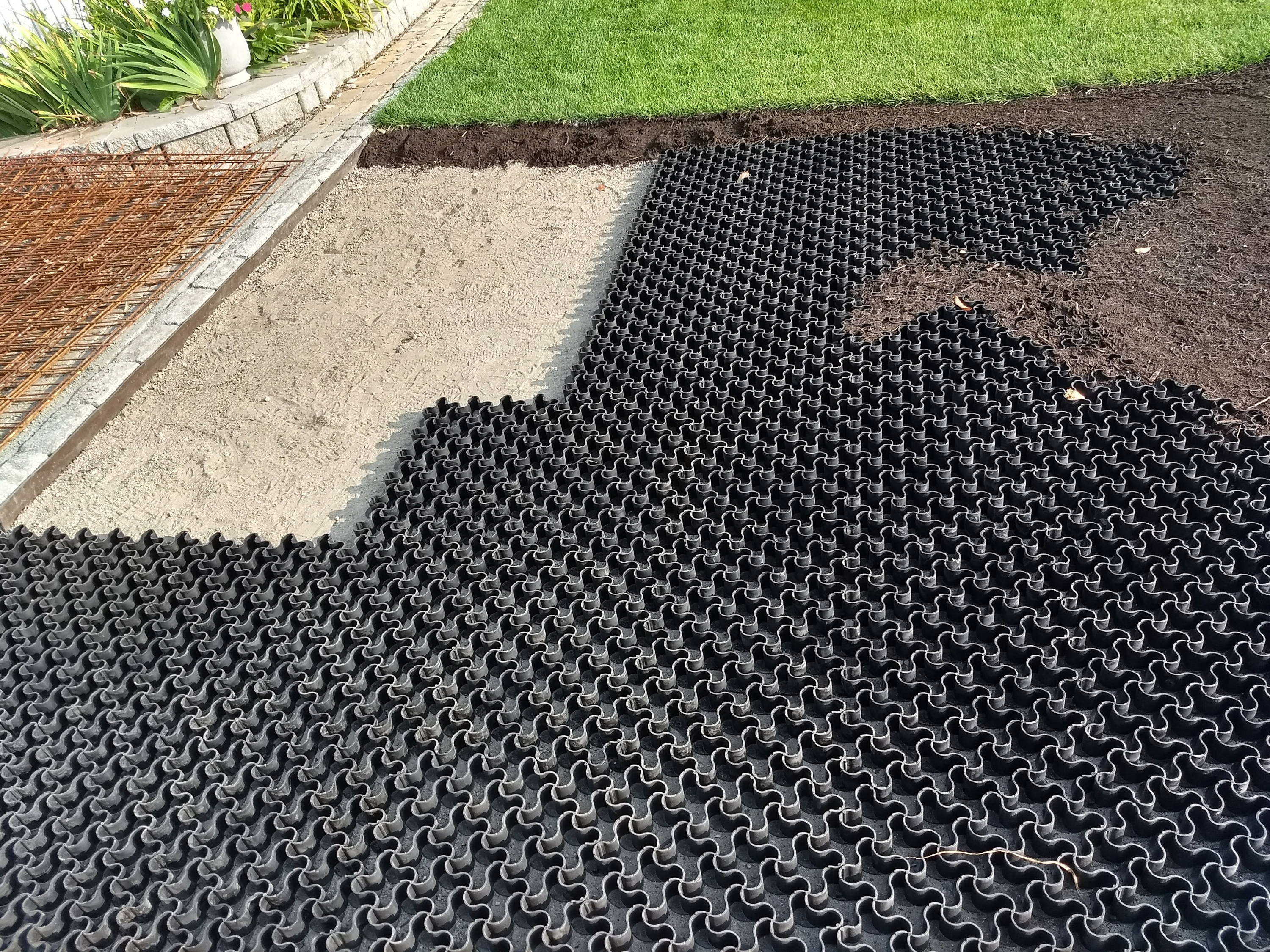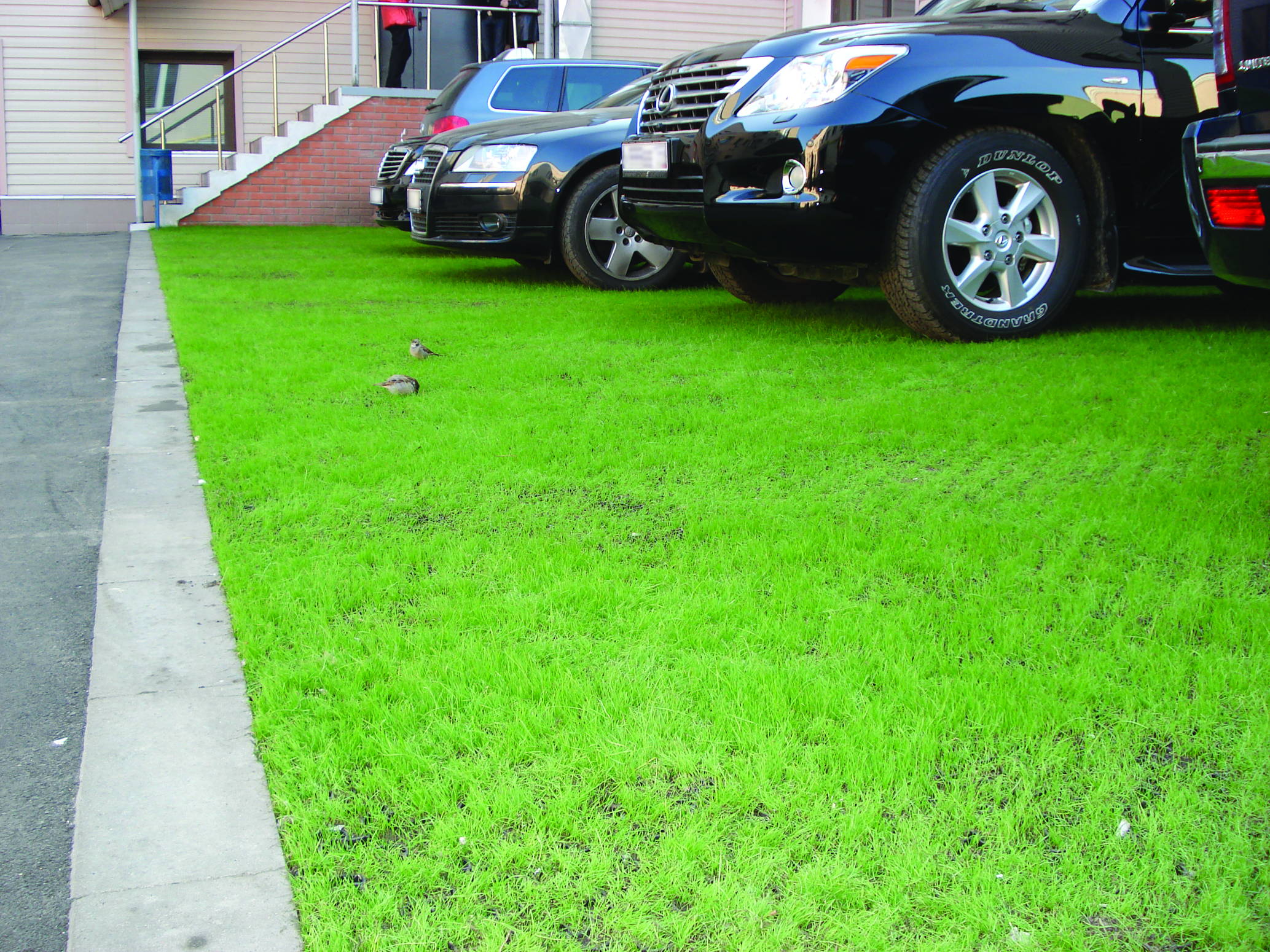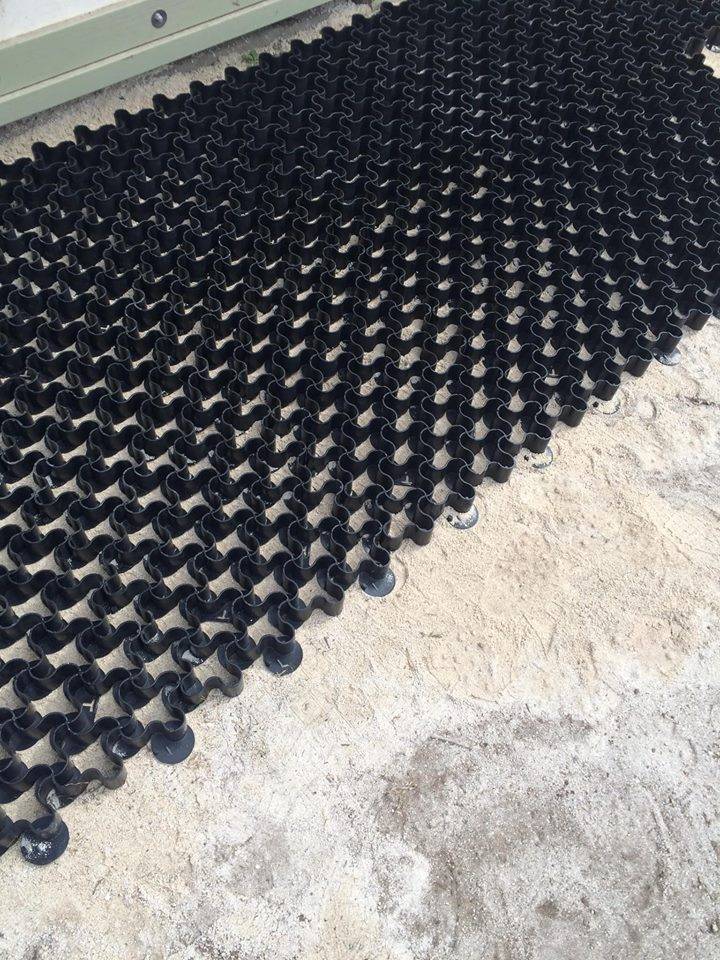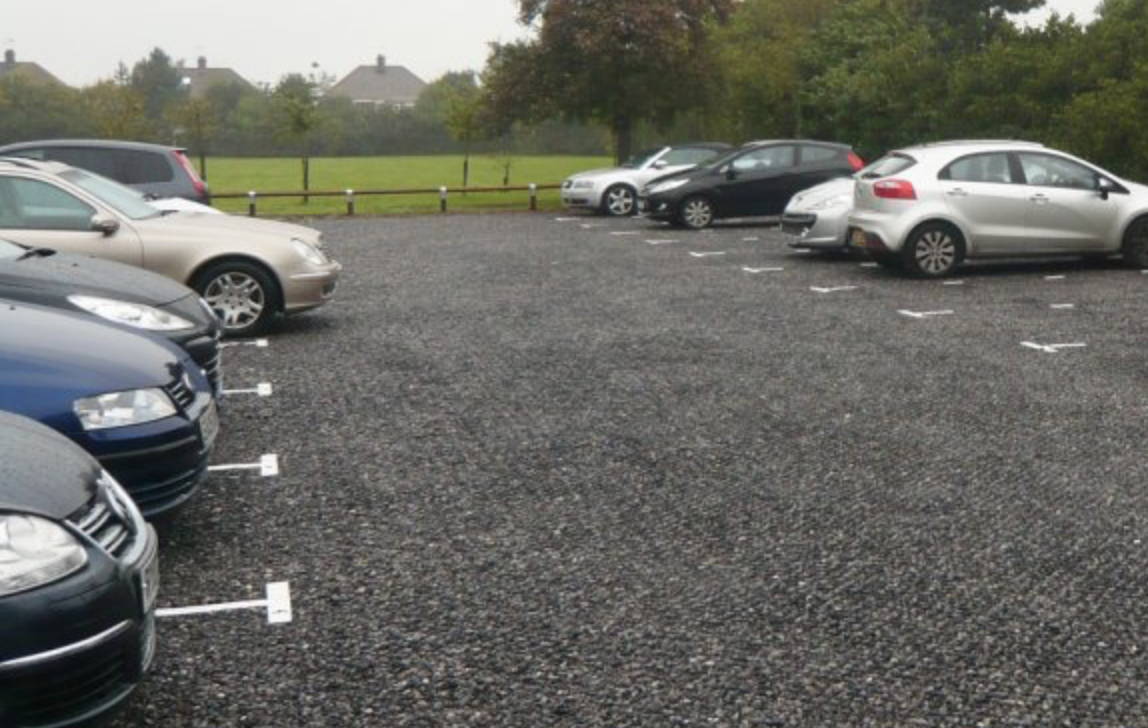 • No Base is "needed"
• Holds 80K lbs with no   fill
• Patent Wave Design       easy on tires
• Horizontal Connection
• Includes vertical             anchors
• 80% Less Fill than Geo   Grid
Backed by Standartparks Lifetime Warranty!
Will arrive 3-5 Business days from day of order!
Made with 100% Recycled Plastic!
Complete Erosion Control System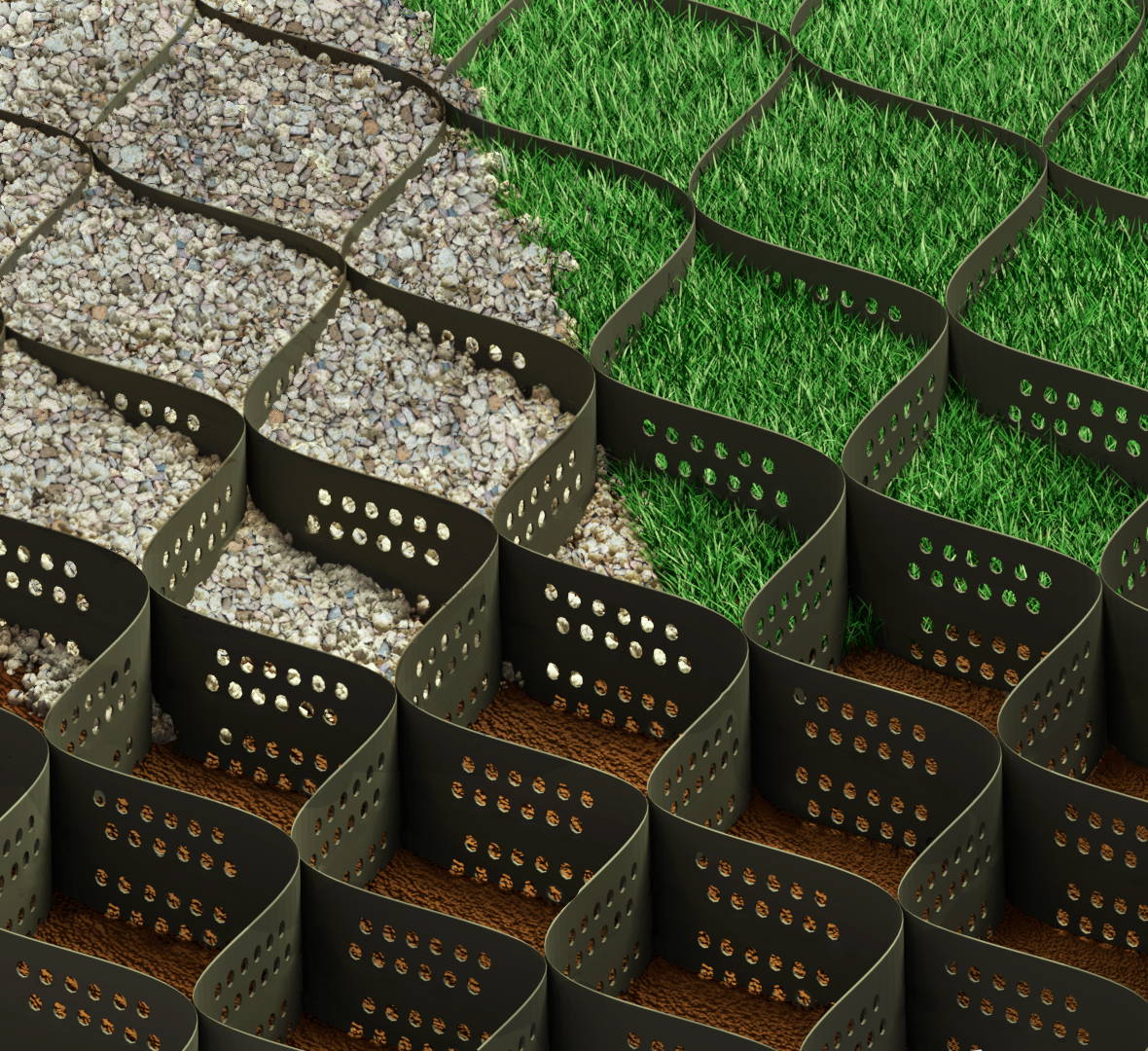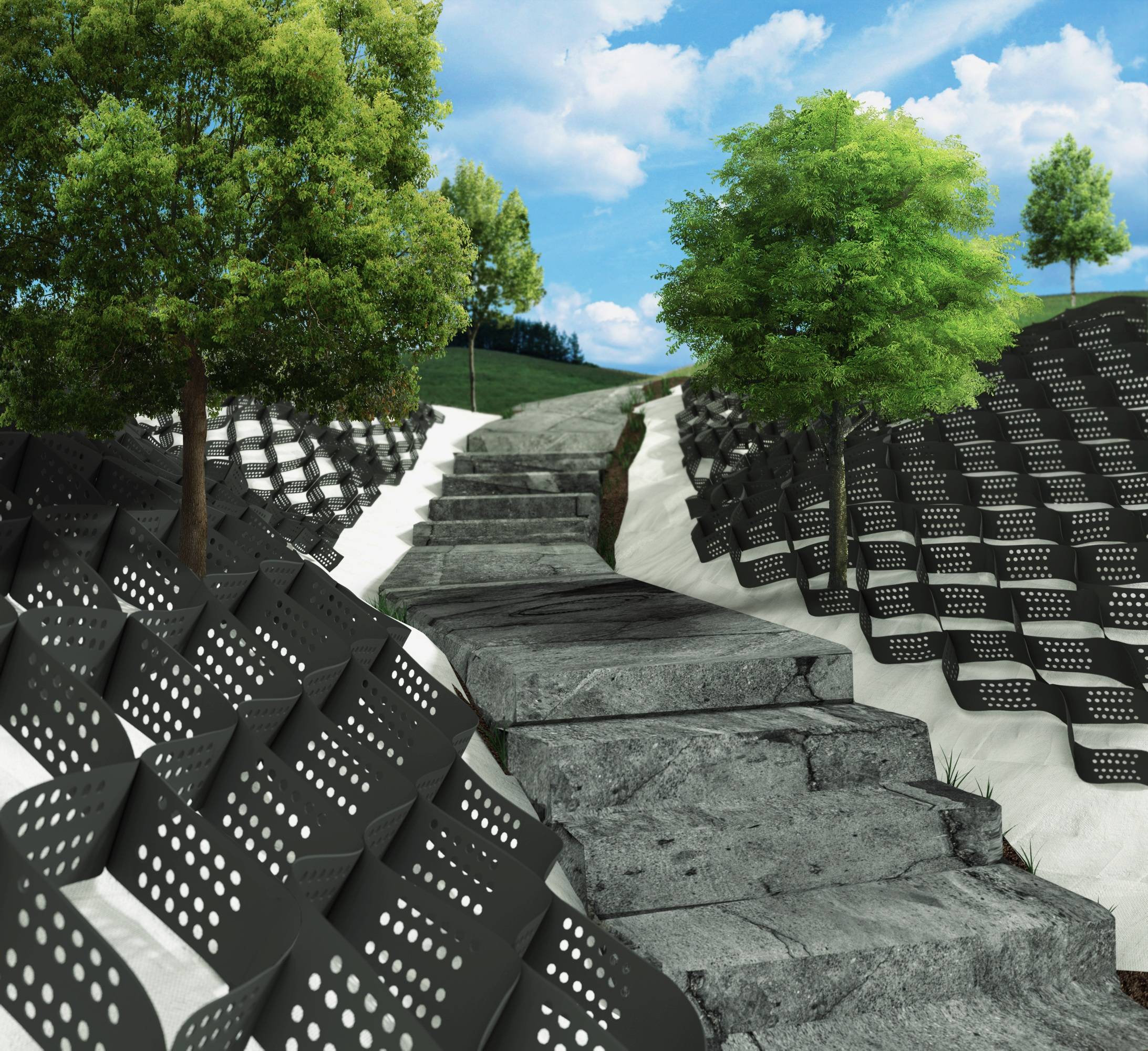 • Steep Erosion Control (4" or 8" grid)
• Large Gravel Driveway (4" or 8" grid)
• Retaining Walls (8" Grid)
• Shed / RV Base ( 4" or 8" Grid)
• Erosion Prevention (4" or 8" Grid)
• Horse Paddocks (with large gravel)
• Walking Paths (2" or 4" Grid)
• Gardening (2" Grid)
Height: 2, 4, & 8 Inch Options
Load Class: 80,000 LBS - When filled with 3/4 Gravel or larger
Dimensions - 9x17 Ft
Base Needed: 2-3 Inches of Crushed Base
• 3/4 Gravel or Larger
• Soil (not for driveway)
• Sand (not for driveway)
• Crushed Concrete
• Crusher Run
Our Geo Ground Grid is recommended to have a 2-4 inch compacted base under the system.
Geo Grid Installation
1. Fully stretch out the geo grid in installation area before anchoring, making sure the size is what you wish it to be.
2. If there is any excess area please trim BUT make sure you keep the geo grid cells fully intact if you are filling them. To trim, use some good solid scissors, or hedge sheers. The geo grid is very easy to cut / trim.
3. Start by anchoring down one of the full length sides. Anchor each cell down strong. You will be using this area to pull and stretch the rest of the grid.
4. Anchor down next side (NOT the opposing side of the grid). Working your way around and fully stretching and anchoring down the entire border of the grid.
5. Once the grid is fully stretched and anchored down (the entire perimeter). Make sure all is tight and firm. This is the KEY POINT in the installation process as you don't want loose sections holding your gravel or grid.
6. The fill ... you can dump and pour directly on the grid. Spreading out as you go along. If you have a long driveway installation, you can dump the first load with bobcat - then immediately drive on it , to continue dumping your fill and spreading it out! Very easy to fill.
7. Overfill - If you wish to overfill your geo grid this is always completely fine. However we recommend only 1 to 2 inches of overfill. And do keep in mind that whatever gravel is over the grid. Its considered loose gravel. And does not fall into the erosion protection of the geo grid cells.
8. Pack and finish - usually just driving on the filled grid will pack it down enough over time. However feel free to hand tamp or roll over if you wish as well!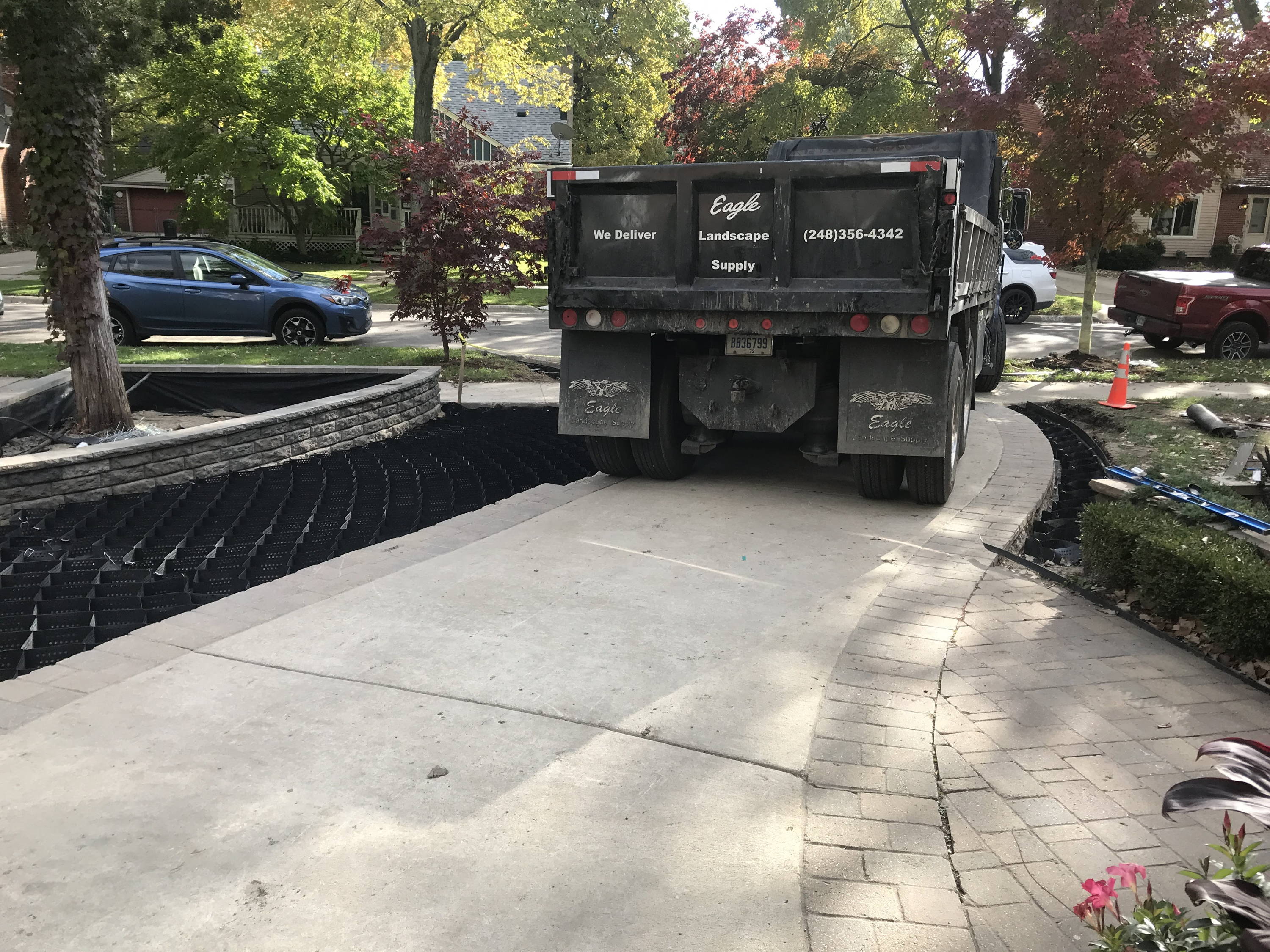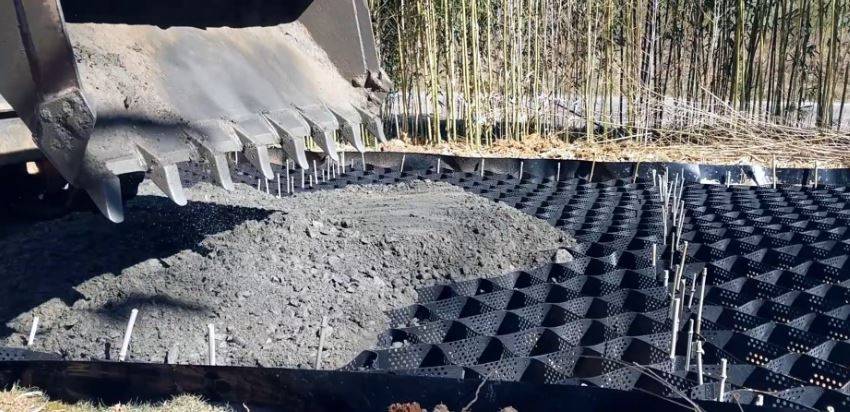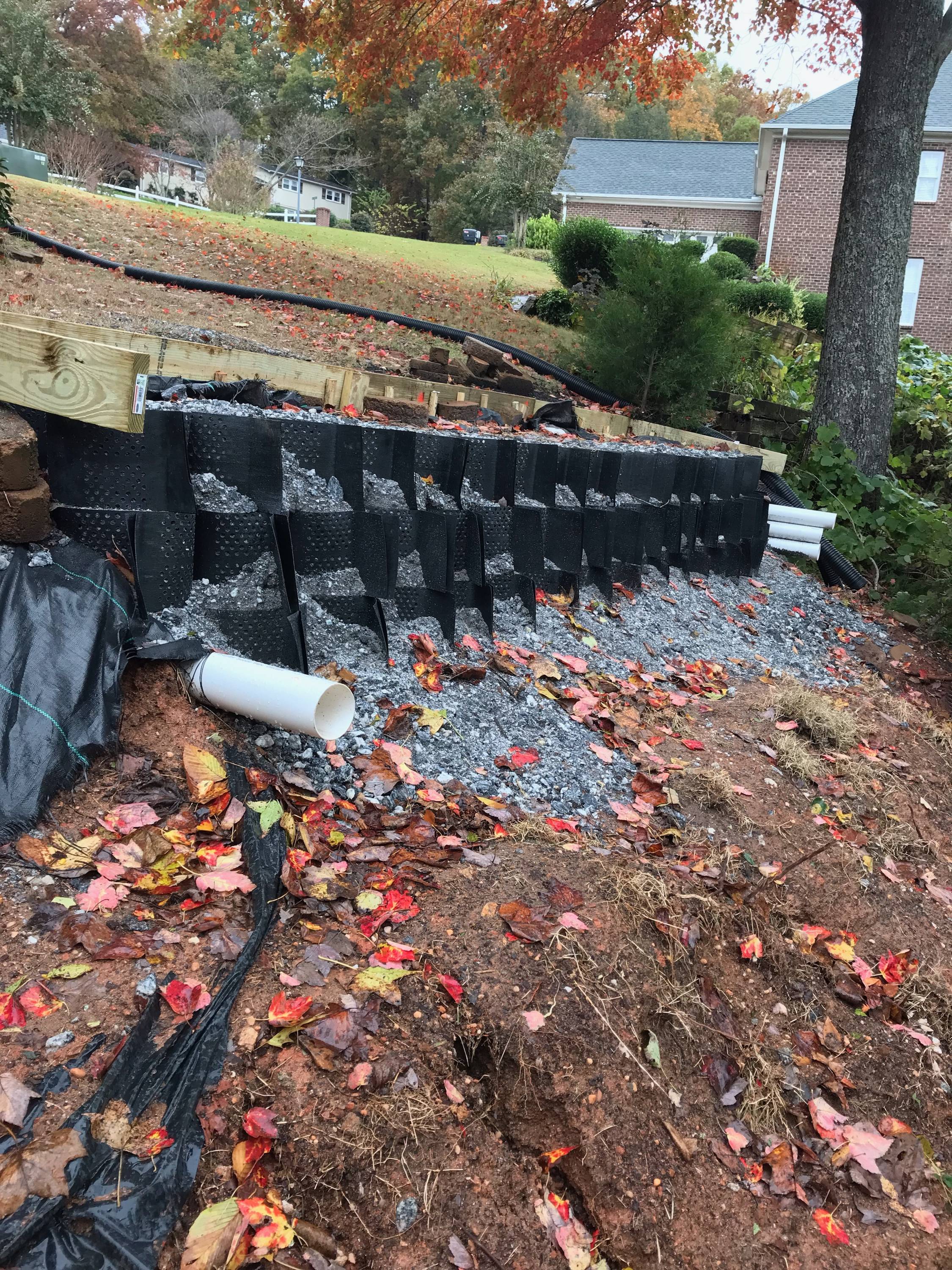 2" Grid
4" Grid
8" Grid

Retaining Wall Installations

Parking pads (used with large Gravel Only)
Backed by Standartparks Lifetime Warranty!
Will arrive 3-5 Business days from day of order!
Made with 100% Recycled Materials!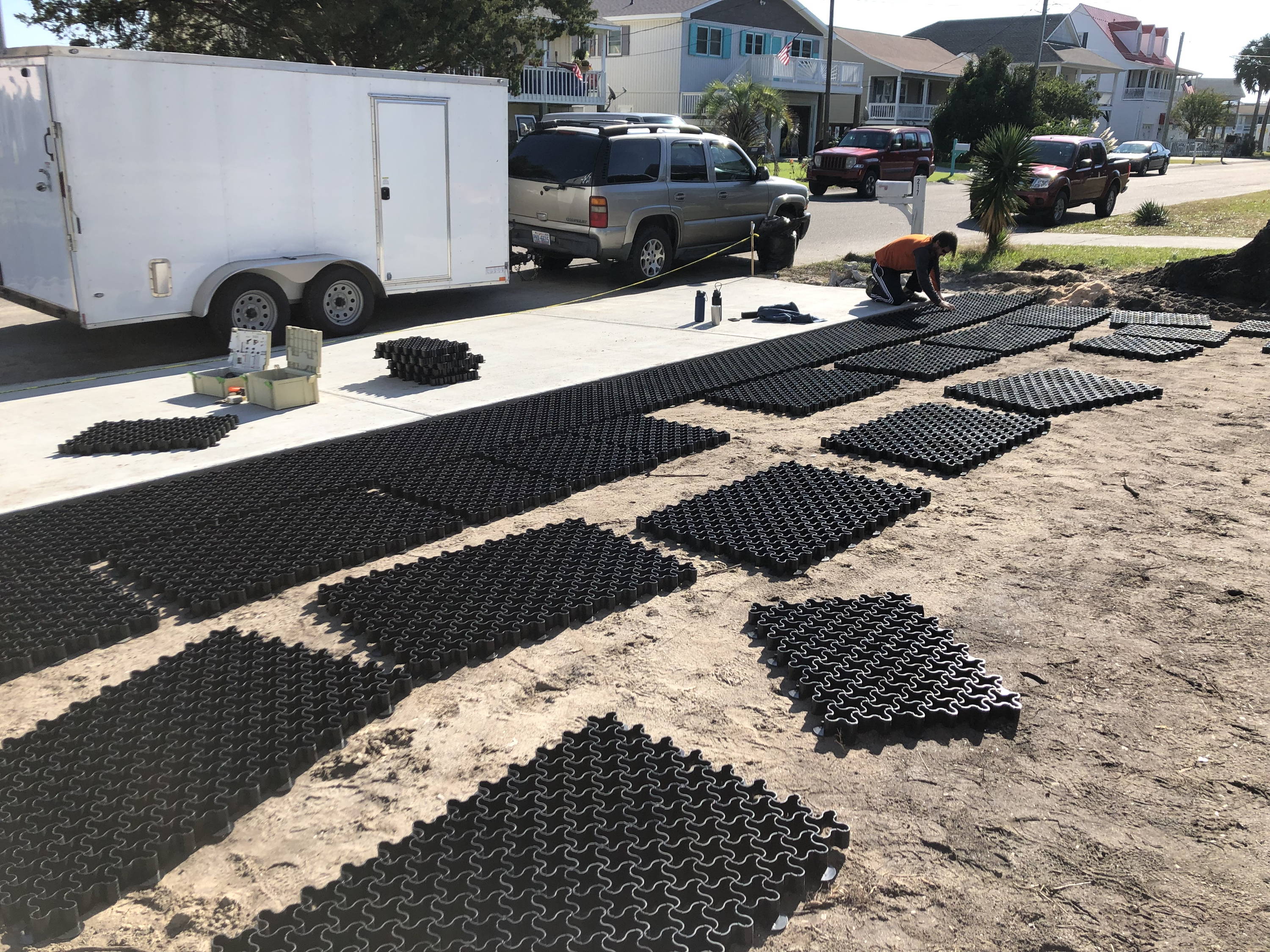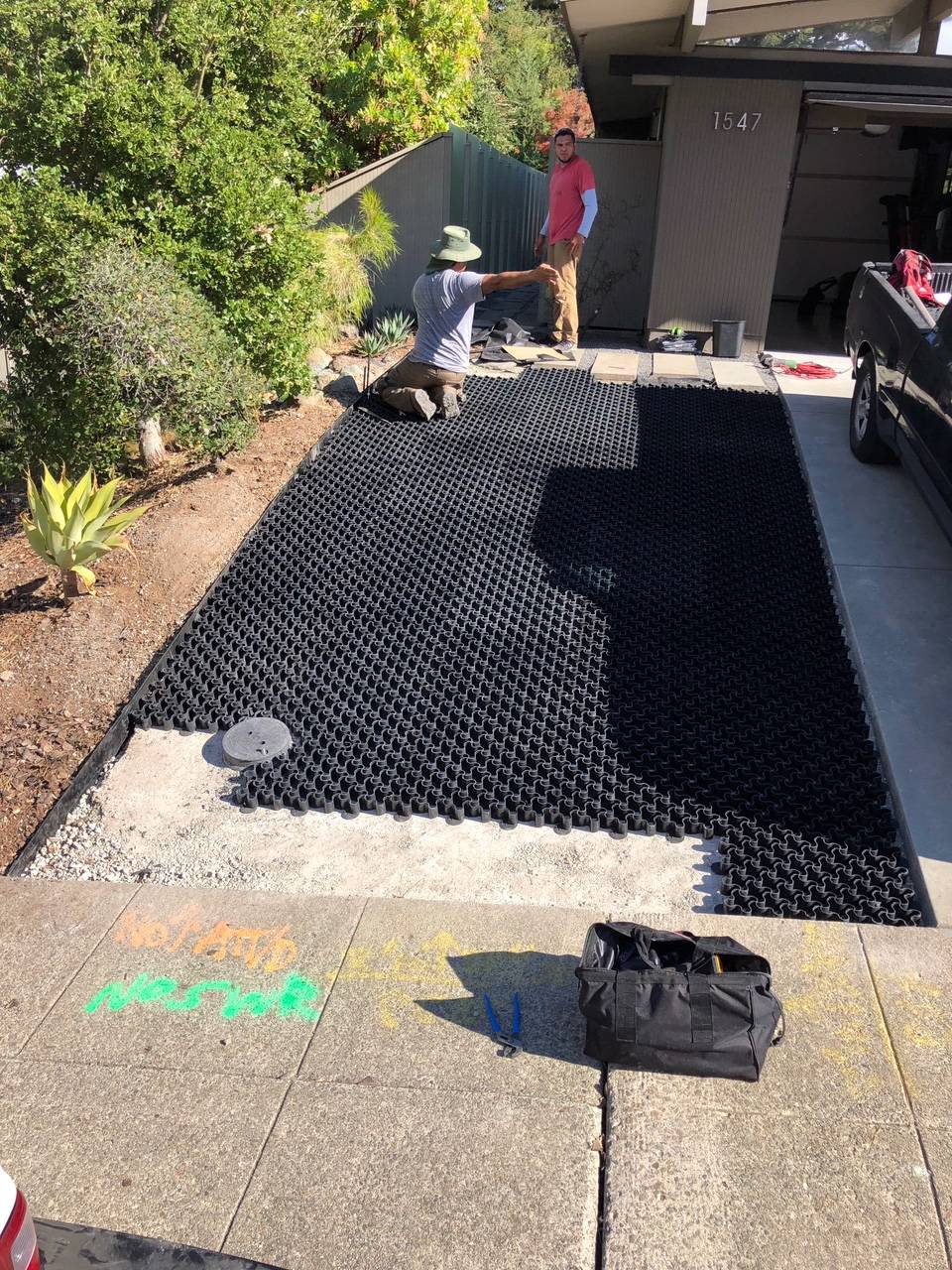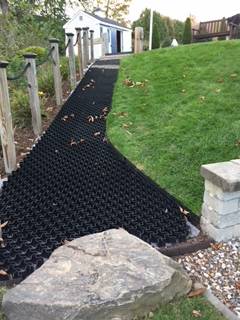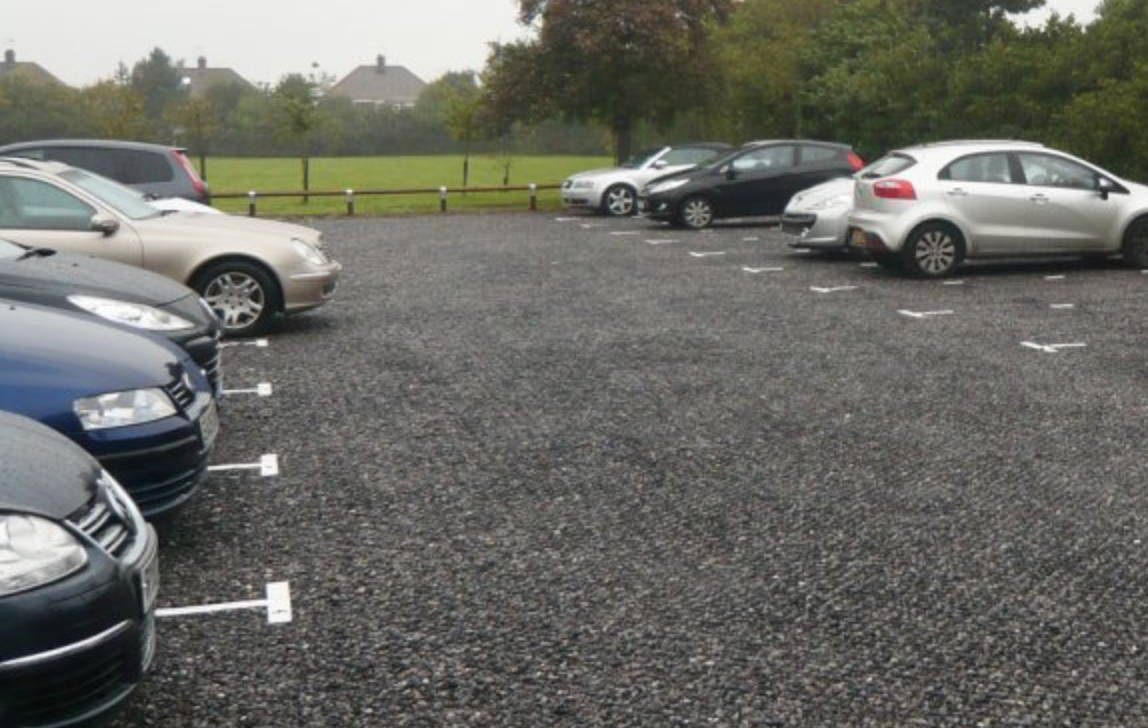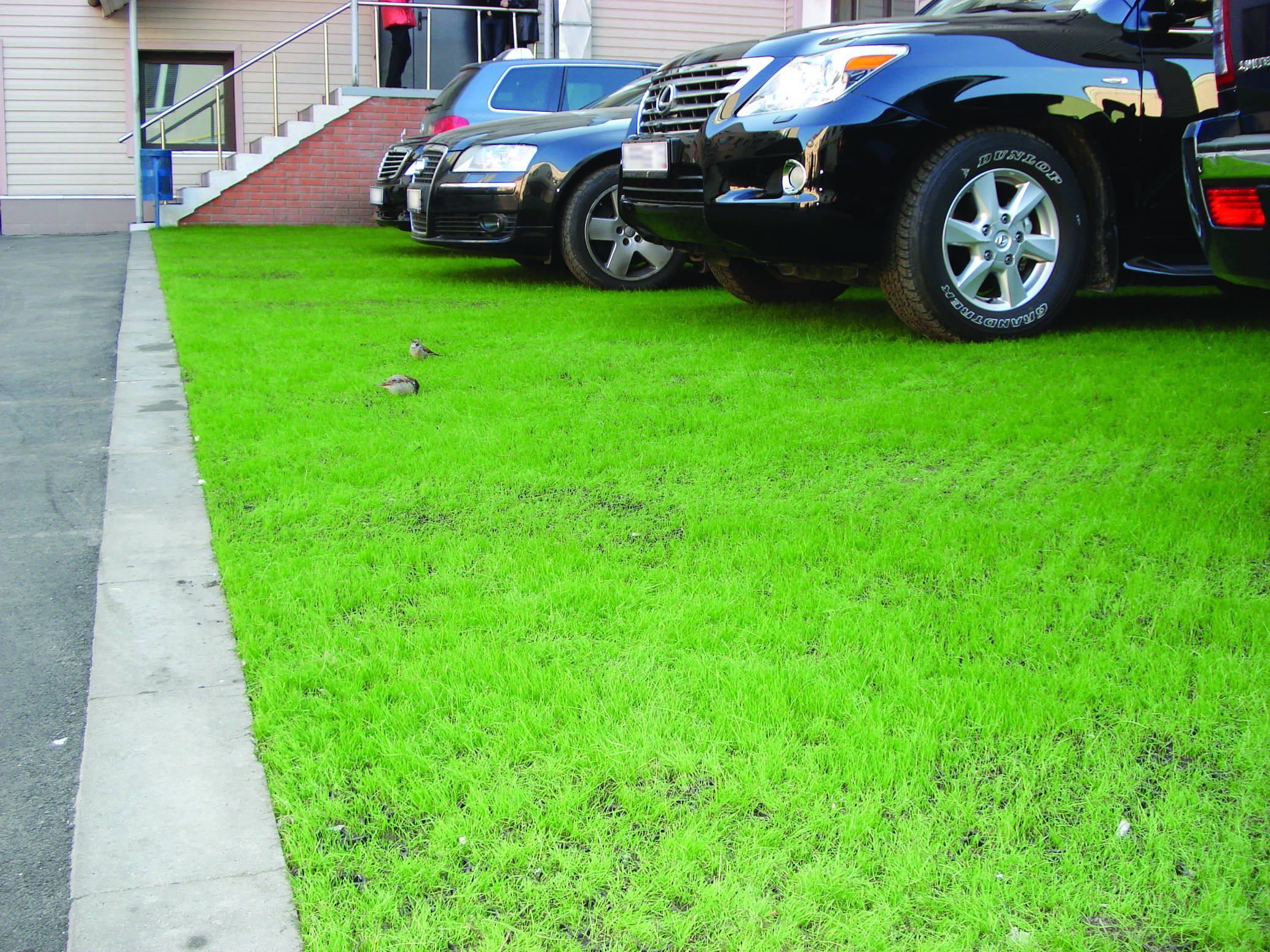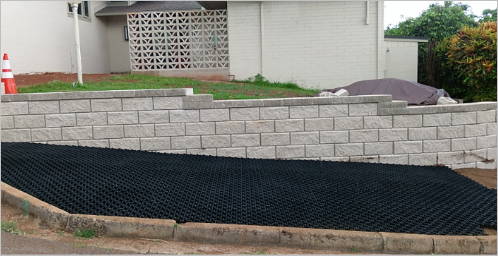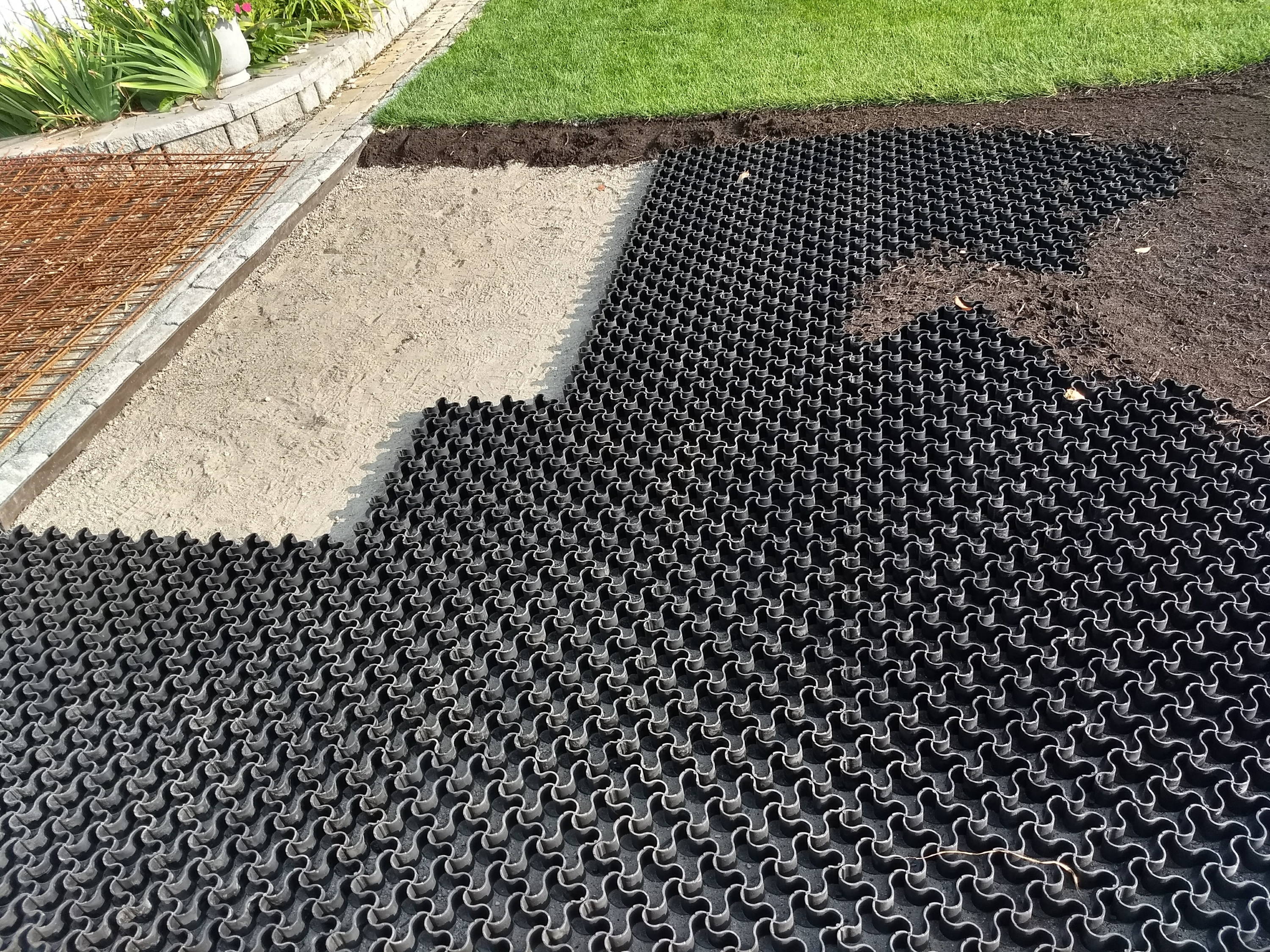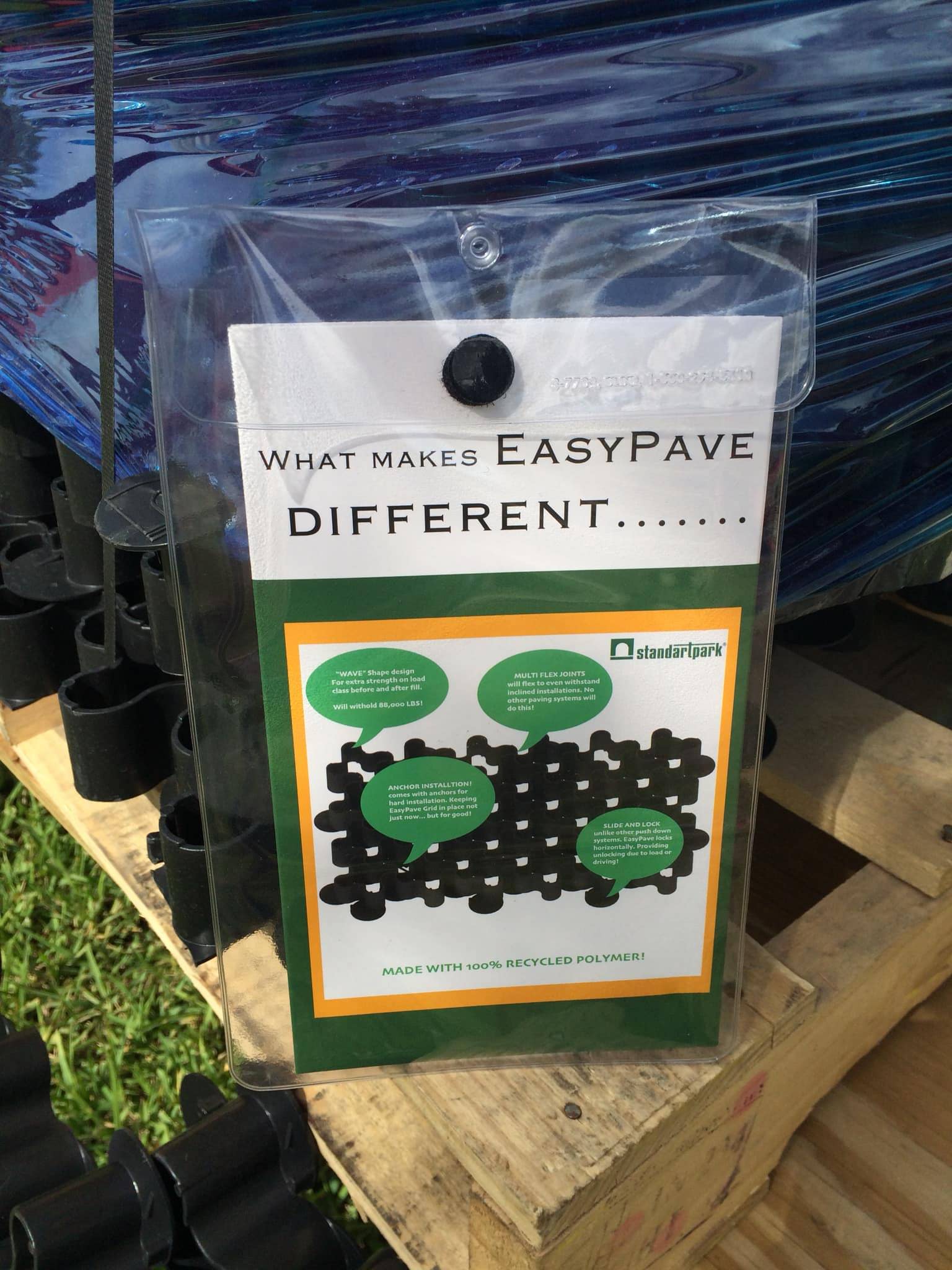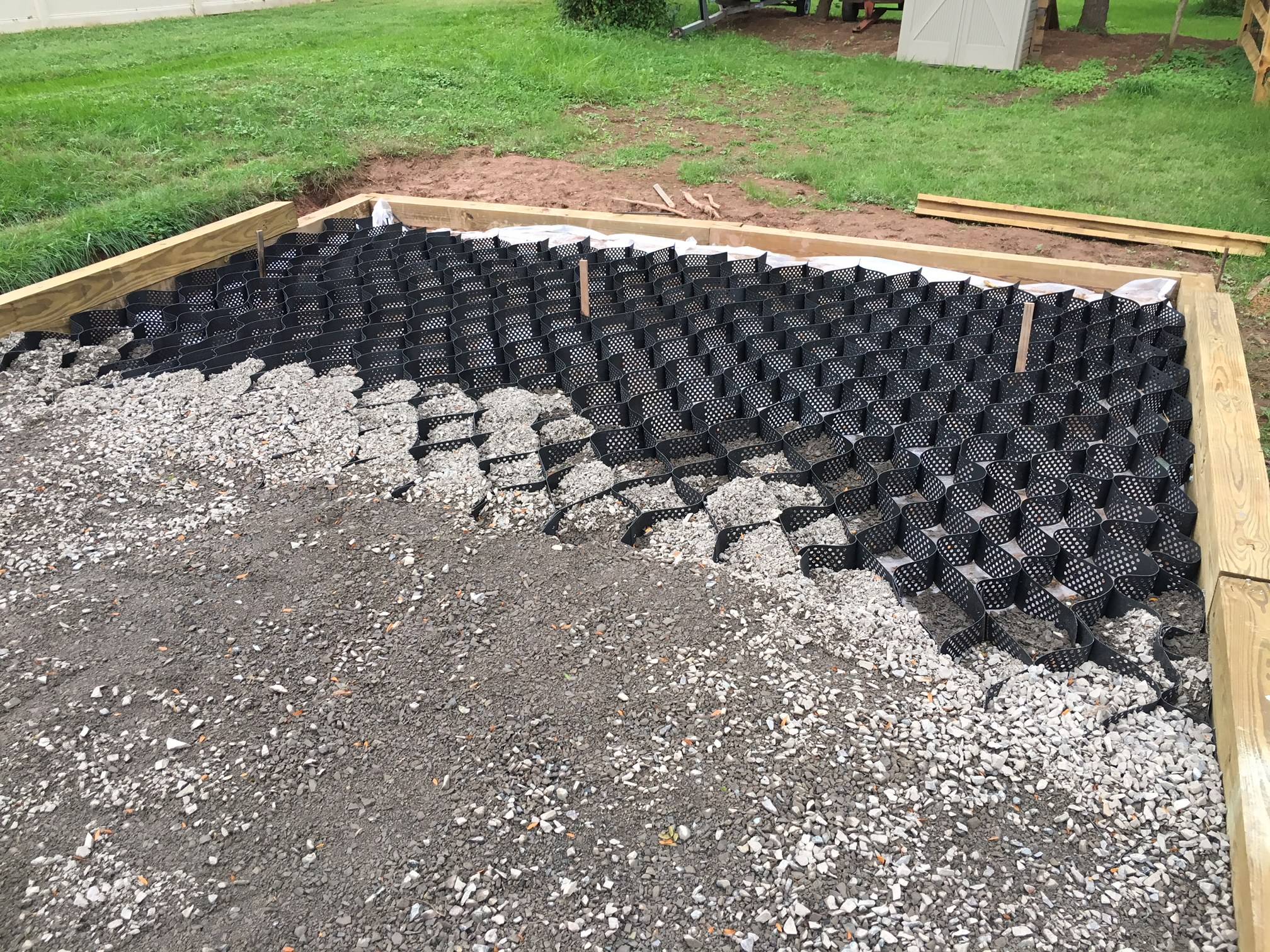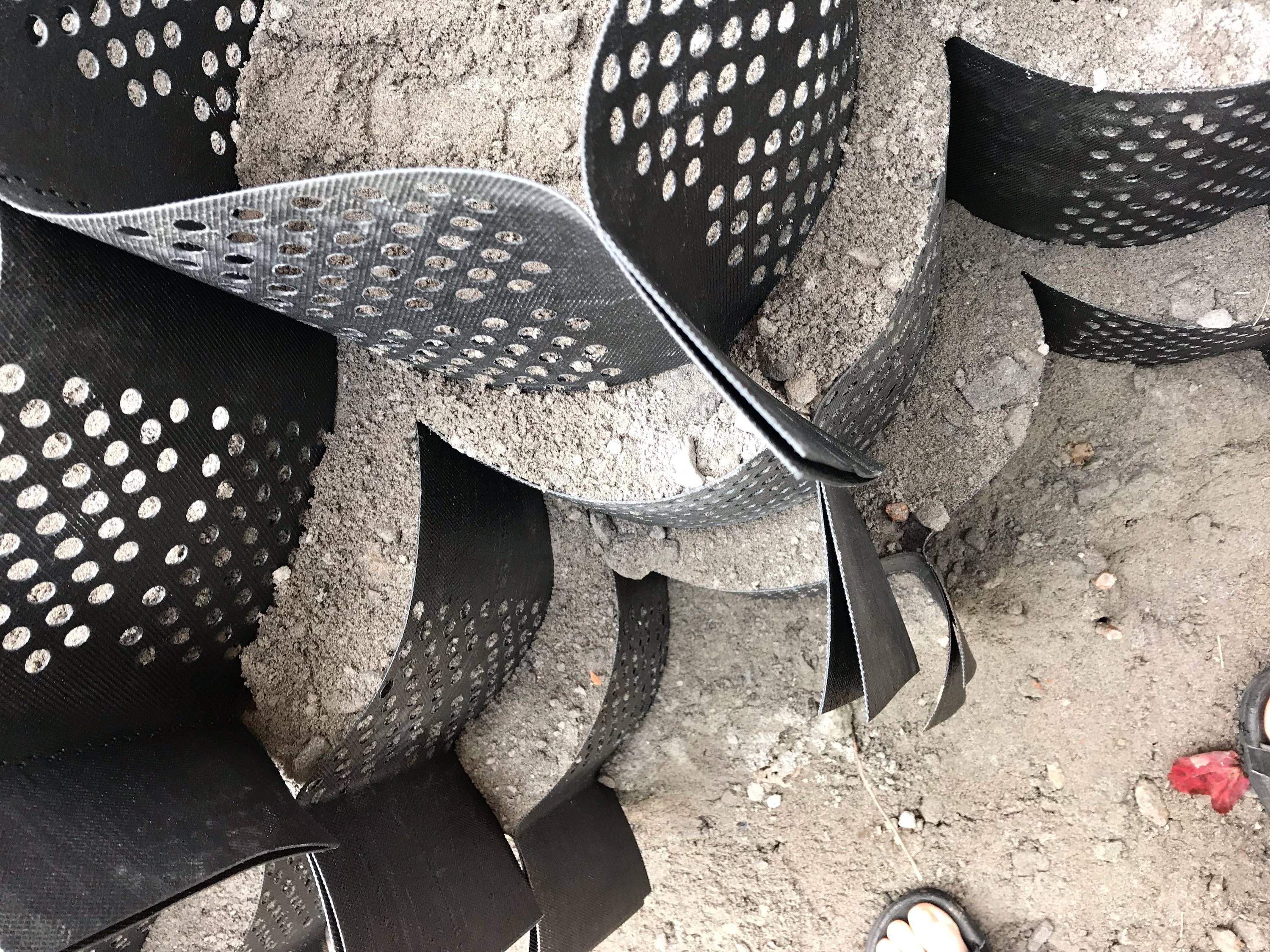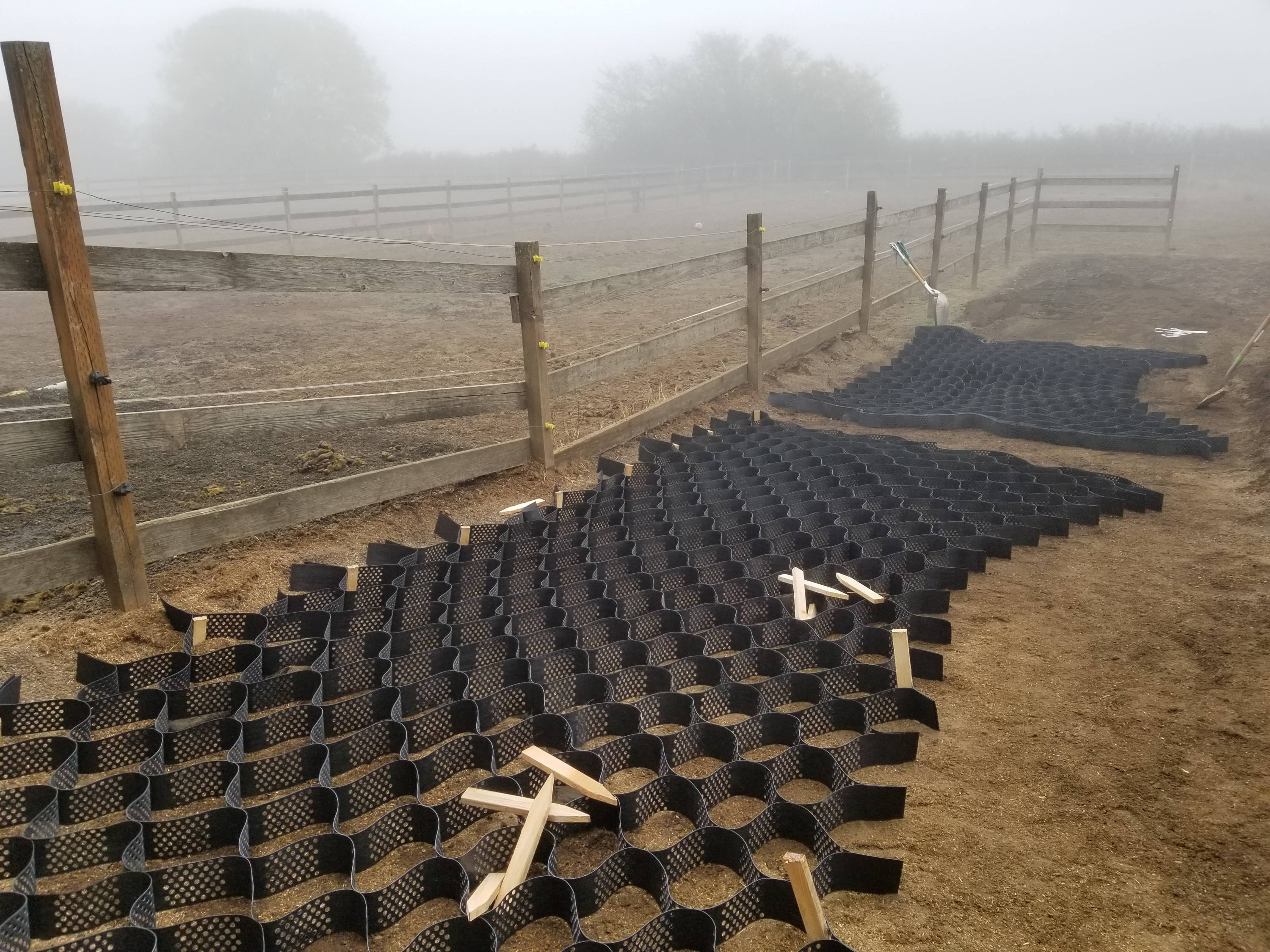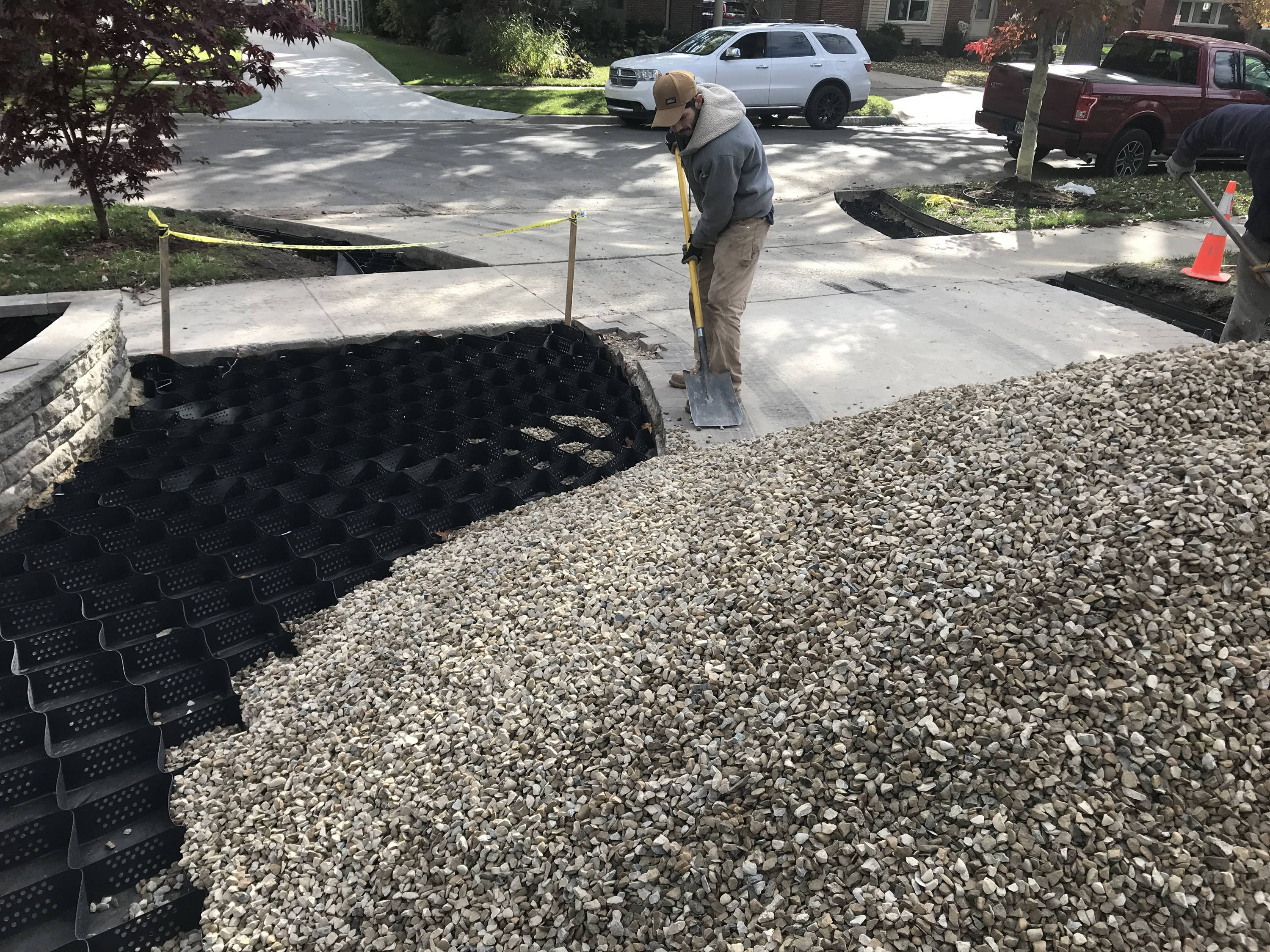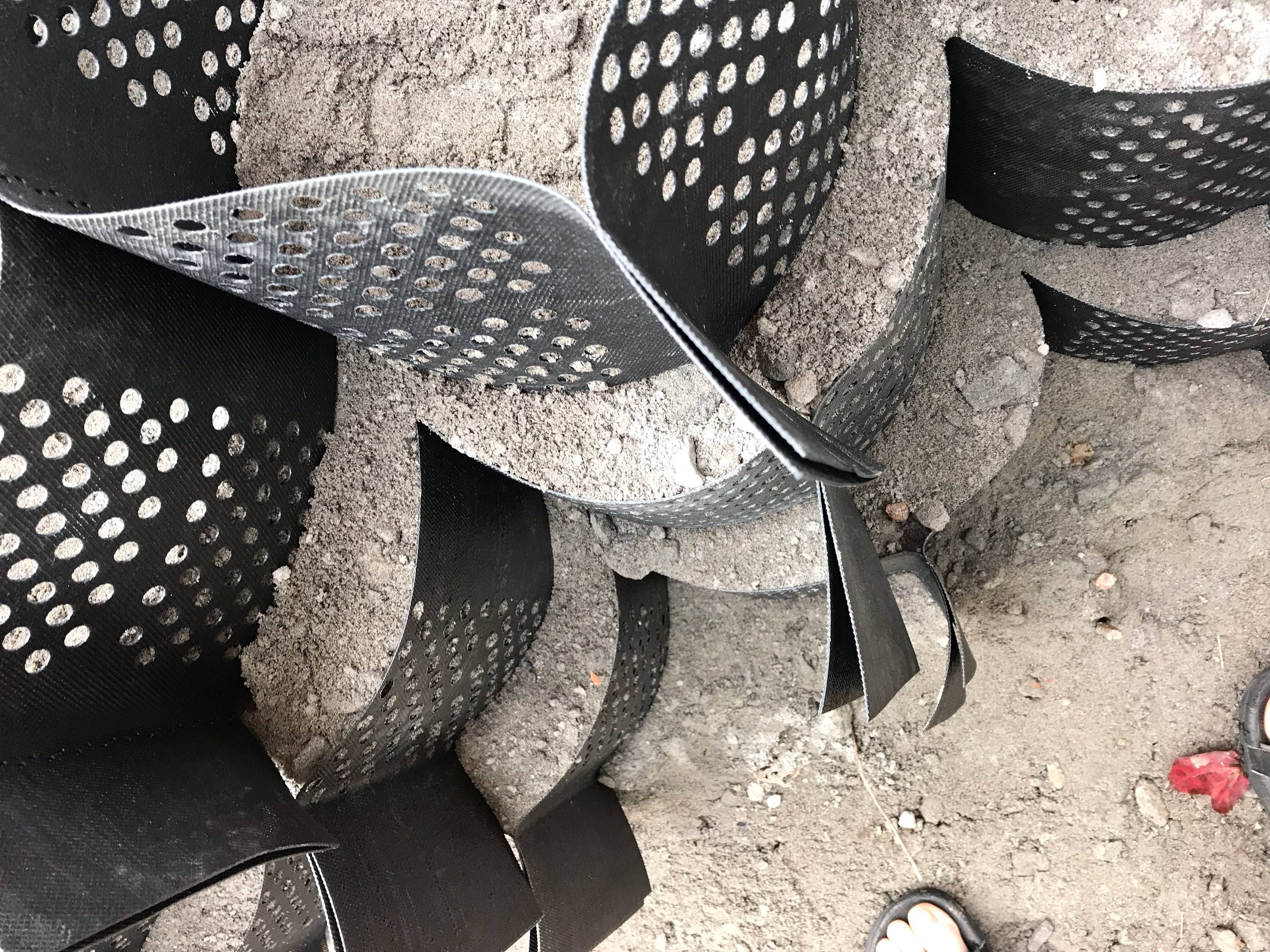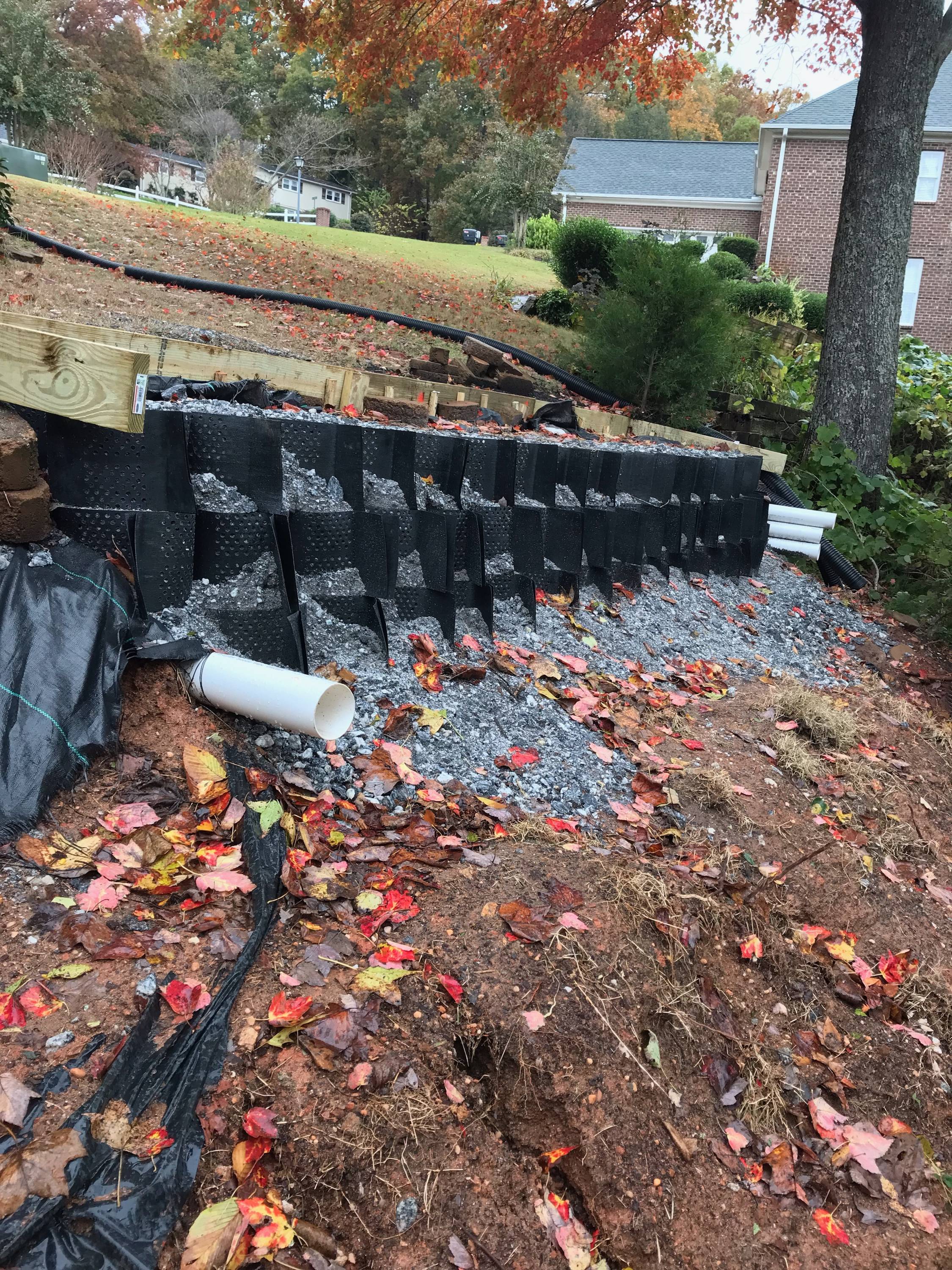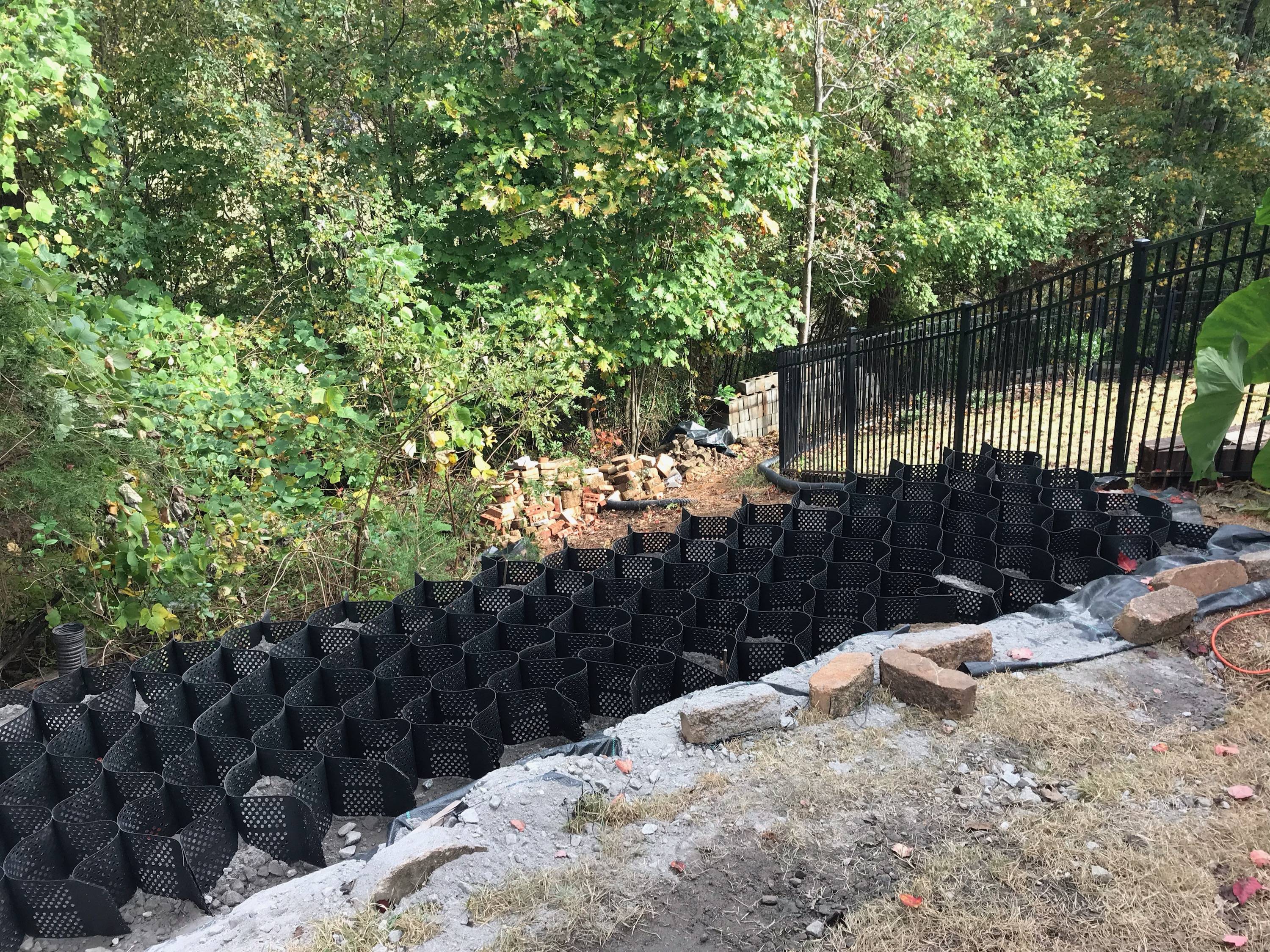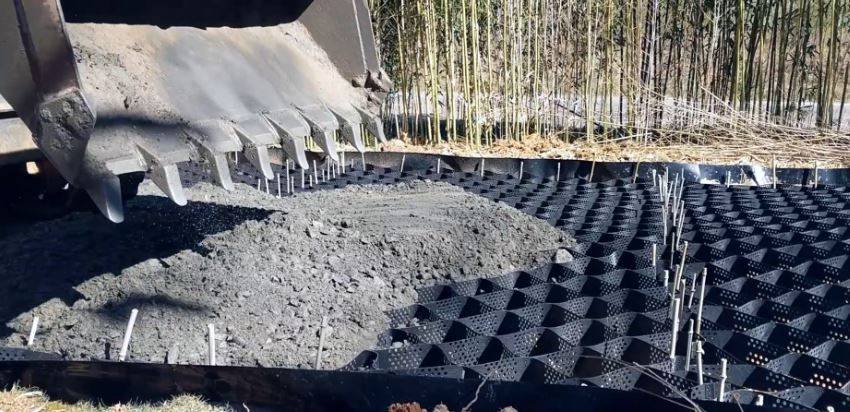 EasyPave Grid System - So if you are doing a parking pad - driveway - or any type of installation where you want a quick DIY project that comes out better than the competition, EasyPave is the way to go. It lays down smooth , includes installation anchors, able to withold grass / sod / soil / sand and smaller rock. Its the most sold product online with us, and for a good reason. Works up to 40 Degree slope and utilizes 75% less fill than our geo ground grid.
GEO GROUND GRID - For extreme erosion control - look no furthur than our geo ground grid. With its 9x17 ft sections - you stretch it out, anchor down and fill with your large or packable gravel. If you are having major erosion issues its the way to go. Utilizing our 8" ground grid, you can even build retaining walls! Saving you hundreds upon hundreds of dollars from your concrete walls you see now. As always if you have any questions about either of our geo grid products, please give us a call anytime! We are here to help!
Some Shipping Questions...
All orders will ship out the very next business day. On smaller orders we ship FedEx Ground - unless express shipping is picked during your checkout (also goes out FedEx). For larger orders - we take care of the freight shipping for free as well! No need for any equipment, we deliver in a drop ship truck that will set it down wherever you wish on your property or your job site!
We accept all major credit cards as well as paypal. If you wish to pay via check - please give us a call. As soon as we receive payment, your order will immediately ship.
Email : info@standartpark.com
Phone: 314-717-1551