Vodaland Drain
INDUSTRIAL CHANNEL DRAINS
The key difference between "basic" and "industrial" trench drain systems is the load class. Industrial systems have a higher load class, ranging from C to F, and are designed for heavy loads or high point-per-pressure requirements, such as forklifts and narrow-wheel-base heavy pallet jacks. Browse our collection and find the right channel for your project.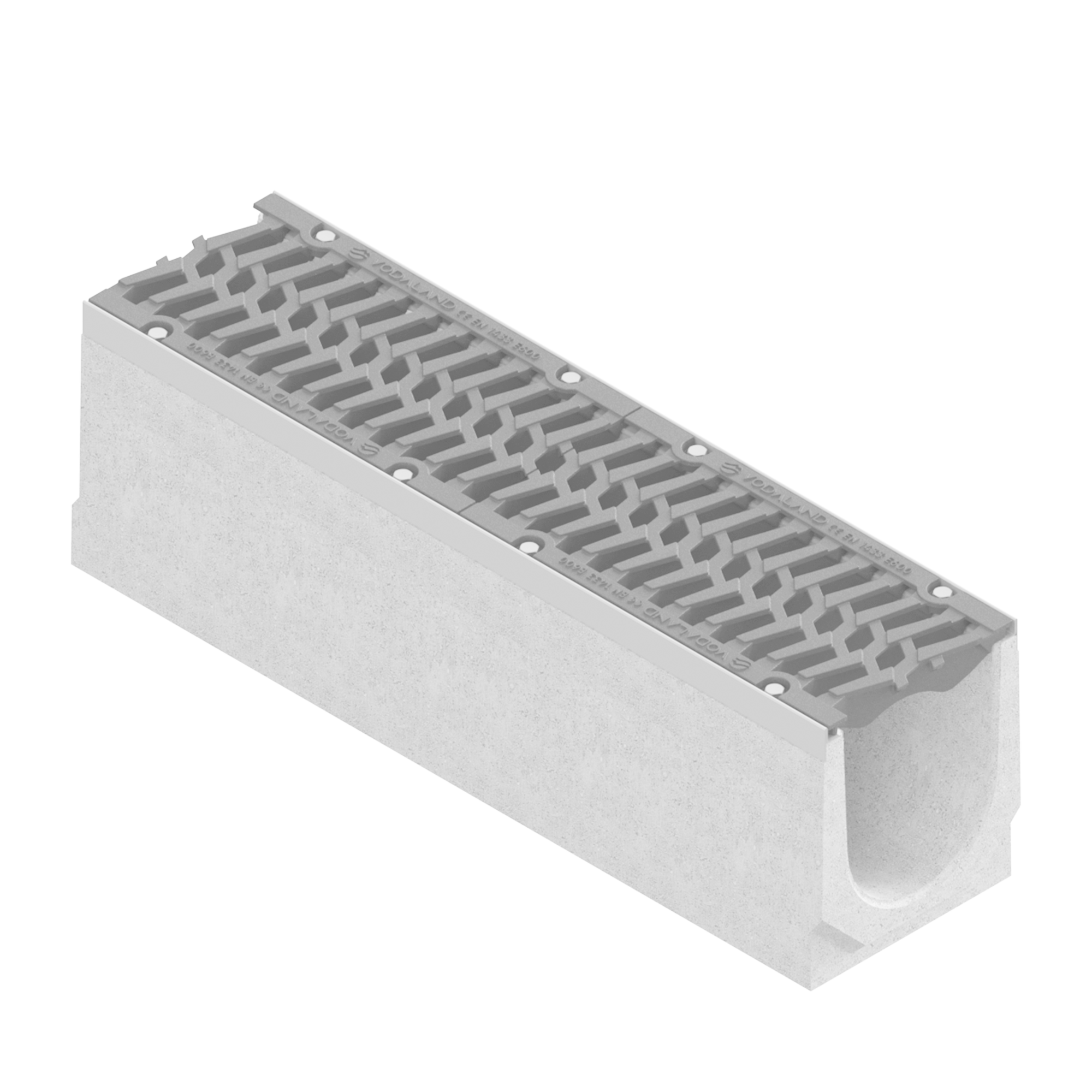 FAQs
Load Classes
Case Studies
Q. How long is each channel?
Each channel is 3.3 ft in length (1 meter) and are designed to connect end to end for a longer run. Or as long as you wish!
Q. Do you have an installation video?
Yes absolutely, we have installation videos on each and every product page for our pre slope systems. Just open that product page and click the video link. They are excellent.
Q. Can you cut the channels if my lengths are not exact?
Yes absolutely. You can cut and then seal on your end cap with no issues if you have to shorten your distance.
Q. Where can I order these?
Not a silly question, but we are the only company in the market to see high end pre slope systems directly online! Just add to cart, and check out, they will arrive in 3-5 business days!
Q. Do you have Auto CAD files for these channels?
A. Yes absolutely, they are on the download list on the product pages.
Industrial Channels That Are Built to Last
Our collection of industrial channel drains provides an effective solution for areas with high "point per pressure" requirements, such as industrial applications with forklifts or heavy pallet jack loads with narrow wheel bases. Our industrial trench drain systems are designed to withstand the heavy loads and demands of these environments.
Our industrial channel drain packages come with a variety of trench drain channels to choose from, including concrete and cast iron options that are durable and can withstand harsh environments. The trench system is designed to efficiently manage the flow of water and prevent flooding in these high-stress areas. Built to last using high-quality materials that are designed to resist corrosion and other forms of damage that can occur in heavy traffic environments, our industrial channels are available in various load class options–from Class C to Class F–so that you can find the right solution for your project. 
Our industrial channel drain packages are easy to install and require minimal maintenance, making them a practical solution for demanding industrial applications. Our trench drain system solutions also offer customization options to meet the specific requirements of your industrial project.